Israel Tour 2018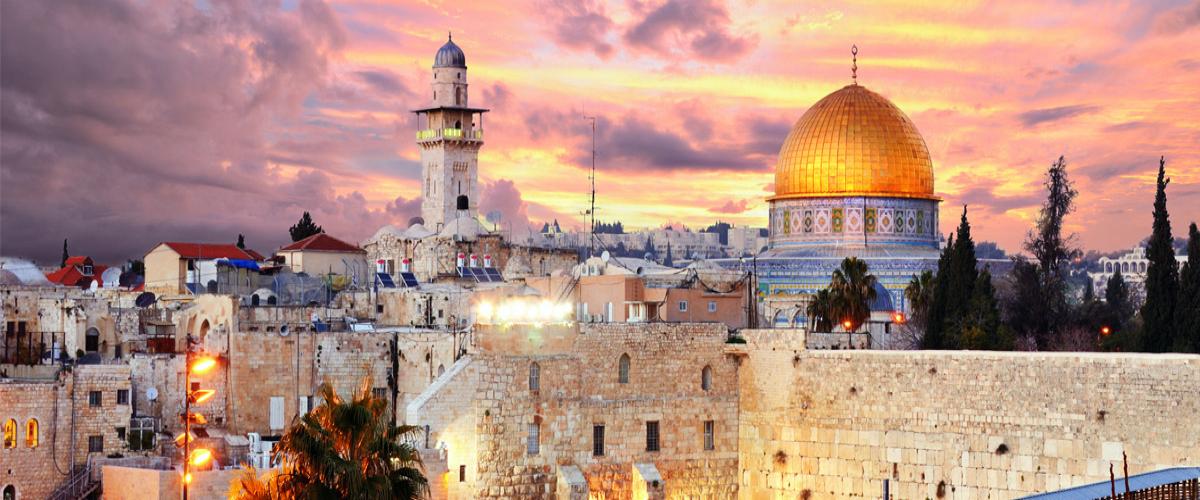 Israel
$2700
Israel Holy Land Tour - November 05 - 12, 2018
Follow In The Footsteps of Jesus
Escorted Package includes -
Return Airfare via New York
Airline taxes & fuel surcharges
All transfers
Land Tour
Hotel Accommodation 6 nights
1 night Tel Aviv
2 nights Tiberias
3 nights Jerusalem
8 Meals : 6 breakfasts, 2 dinners
Porterage for one suitcase
All sightseeing and entrance fees as per itinerary
All overseas assistance at airport and hotels
Deluxe motor coach with driver for all ground transportation
English speaking Tour Guide
Highlights
Leisure time to enjoy Tel Aviv, known as Israel's "playground on the sea"
Tour the astounding Roman, Byzantine and Crusader ruins at ancient Caesarea
Enjoy the serenity of the Sea of Galilee, the largest freshwater lake in Israel
Tour the impressive archaeological site of Beit She'an dating back to King Saul
In Jerusalem's Old City, explore the Via Dolorosa, Church of the Holy Sepulchre and Mt. Zion
Time to explore the multifaceted ancient "golden" city of Jerusalem at your own pace
DAY 1, Monday November 5 2018 - Depart for Israel
Depart for Israel
DAY 2, Tuesday November 6 2018  - Arrive in Tel Aviv
Arrive in Tel Aviv; transfer to your hotel in this vibrant city, known as Israel's "playground on the sea." Time to rest, relax and acclimate to your new time zone. Perhaps walk along the bustling beachfront promenade, stop at a café and just people-watch! 
Overnight: Tel Aviv
DAY 3, Wednesday November 7 2018 - Tel Aviv, Caesarea, Tiberias
This morning join your tour manager to get acquainted with the "Big Orange" on the walking tour of the city's highlights. Travel to Rabin Square to view the memorial to the late Prime Minister before continuing to quaint Neve Tzedek (Tel Aviv's "Soho") and the ancient port of Jaffa with its reconstructed Artists' Quarter. Free time for lunch on your own. Later, depart Tel Aviv and drive along the sparkling Mediterranean coast to ancient Caesarea; see the astounding Roman, Byzantine and Crusader ruins and the 2,000-year-old theater. Drive to the age-old fishing village of Capernaum on the northern shore of the Sea of Galilee, home to a celebrated Byzantine-era synagogue and frequently mentioned in the Bible as Jesus' base during his Galilean ministry. Arrive in Tiberias, nestled on the tranquil Sea of Galilee for dinner and overnight 
Overnight: Tiberias 
Meals: Breakfast, Dinner
DAY 4, Thursday  November 8 2018 - Tiberias & the Sea of Galilee
A leisure day to enjoy the serenity of the Sea of Galilee, the largest freshwater lake in Israel, or explore this remarkable city embedded with a history dating back to the Roman Emperor Tiberius and  religious sites that include the tomb of Maimonides and the Church of St. Peter.
Don't miss the optional full day tour to Galilee that begins at the Mount of Beatitudes where Jesus preached His famous "Sermon on the Mount". Next on to Safed, one of Judaism's holiest cities and mystical center of Kabbalah; walk through the colorful artists' colony and visit an ancient synagogue. Then, ascend the Golan Heights to understand more about this strategic area; visit Har Bental, site of a former Israeli bunker. After lunch at a kibbutz, taste special vintages at a winery in Katzrin before returning to the hotel. Tonight, dinner at your hotel 
Optional: Full Day Galilee & Golan Heights with Lunch (USD112)
Overnight: Tiberias 
Meals: Breakfast, Dinner
DAY 5, Friday November 9 2018 - Beit She'an, "Golden" Jerusalem
Traveling south reach the impressive archaeological site of Beit She'an, an ancient city dating back to King Saul; see the remains of an ancient Roman city and the ongoing excavations. Continue via the Jordan Valley to the "golden city" of Jerusalem. The rest of the day is at leisure to discover the many facets of Jerusalem on your own. The optional afternoon tour to Bethlehem includes a visit to the Church of the Nativity, commemorating the birthplace of Christ. A stop for local olive wood handicrafts is included 
Includes Half Day Bethlehem (PM) 
Overnight: Jerusalem 
Meals: Breakfast
DAY 6, Saturday November 10 2018  - Full Day in Jerusalem
Immerse yourself in this ancient city on this day at leisure; walk through the city's colorful neighborhoods that reveal a diverse blend of traditional and modern cultures. Or, participate in the optional tour to Masada that begins with a drive along the shores of the Dead Sea, the lowest point on earth, to Masada. Ascend by cable car to the top of these heroic heights; listen to the brave tale of the Zealots who chose to perish rather than live under Roman rule.
 Visit the archaeological sites including the remains of Herod's Palace, a synagogue, bath houses, and dwellings. After a visit to the Museum of Masada at the base, stop at the Dead Sea for a swim in the salty and buoyant waters before returning to Jerusalem. Later, the entertaining optional evening includes dinner at a popular restaurant, attendance at the spectacular Sound & Light Show at the Tower of David and a drive through illuminated Jerusalem 
Optional: Full Day Masada and Dead Sea (AM) (USD 112)
Optional: Illuminated Jerusalem Dinner & Sound & Light Show (USD 87)
Optional: Restaurant Dinner, Sound & Light Show & Illuminated Jerusalem (PM) 
Overnight: Jerusalem 
Meals: Breakfast
DAY 7, Sunday November 11 2018 - Jerusalem Old City Tour
Begin your exploration of Jerusalem at the walled Old City with its four distinct sections - the Christian, Jewish, Muslim and Armenian Quarters. Follow the steps along the Via Dolorosa to the Church of the Holy Sepulchre, one of the holiest sites in the Christian world. Pass through the narrow alleys and souks to Mt. Zion; visit the Room of the Last Supper and the Tomb of King David. The remainder of the day is on your own to stroll through the picturesque lanes of the Old City or visit the exotic bazaars. The afternoon optional tour of the New City begins with a drive via the Supreme Court building and the Knesset, Israel's Parliament, to the impressive Israel Museum. Here, view the Shrine of the Book, home of the Dead Sea Scrolls, and the scale model of Jerusalem during the Second Temple period. Then, pay respects at Yad Vashem, Memorial to the Holocaust on the Mount of Remembrance 
Optional: New City of Jerusalem (PM) (USD 69)
Overnight: Jerusalem 
Meals: Breakfast
DAY 8, Monday November 12 2018 - Depart Israel
Transfer to the airport for your departure flight 
Meals: Breakfast