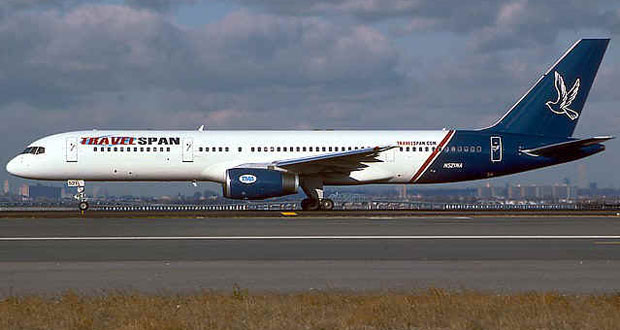 TravelSpan - Specializing in Airline Tickets and Vacation Packages
TravelSpan is an air travel company with a difference. With over 22 years in business, and thousands of satisfied passengers, TravelSpan is an established tour operator, specializing in discounted airfares and vacation packages to the Caribbean, India, Europe, Guyana Trinidad & Tobago. TravelSpan sells airline tickets and hotel packages for travel almost anywhere in the world. TravelSpan commands a stellar position as a premier travel company and tour operator. The TravelSpan offices are in the USA and we have GSA representation in Trinidad and Guyana. These offices, listed below are convenient for passengers who wish to make schedule changes for their flights or any other issues that they may need personal assistance with. 

The TravelSpan management team combined has over 50 years of experience in the travel industry. 

In addition to selling seats on almost every airline , TravelSpan for many years has contracted a dedicated Boeing 757-200 aircraft with 200 seats for the exclusive use of our loyal customers traveling between the Caribbean and the USA. That aircraft is operated by a major US air carrier and these flights operate from JFK, Terminal 1. On each flight we offer hot meals, movies, drinks and an in-flight coordinator. This dedicated aircraft enables TravelSpan to personalize our service, offer convenient departure times and, most significantly, low fares. 

Our travel industry affiliations include - ARC, IATA, ASTA, ALTA, and CTO. The TravelSpan management and staff are committed to offering a superior service. Please contact us or our GSA, TravelSpan GT and Amral's Travel, at any of the locations listed below.
Mailing Address
US Office Locations
Queens                                                                                    Brooklyn
121-04 Liberty Avenue                                                           1170 Nostrand Avenue 
South Richmond Hill, NY 11419                                             Brooklyn, NY 11225 
(Tel) 718-845-0437                                                                 (Tel) 718-774-9725 
(Fax) 718-843-1229                                                               (Fax) : 718-774-9729 
Mon-Fri 9:00AM to 6:00PM                                                    Mon-Fri 9:00AM to 6:00PM 
Sat 9:30AM to 5:00 PM                                                          Sat 9:30AM to 5:00 PM
Brooklyn (Travel Station)
3413 Church Avenue
Brooklyn, NY 11203
(Tel) 718-774-9725 Ext 1146
Mon-Fri 9:00AM to 6:00PM  
Sat 9:30AM to 5:00 PM
Miami
1604 N 69 Way  
Hollywood, FL 33024
(Tel) 305-602-7760
Mon-Fri 9:00AM to 6:00PM  
Sat 9:30AM to 5:00 PM
Amral's Travel Services - Travelspan's General Sales Agents in Trinidad and Tobago:
Chaguanas                                                                             Port of Spain
Mid Center Mall                                                                       Capital Plaza, Level 1, Frederick St. 
Chaguanas, Trinidad (W.I.)                                                     Port of Spain, Trinidad (W.I.) 
(Tel) 868-665-3383                                                                  (Tel) 868-625-0800 
(Fax) 868-671-6040                                                                (Fax) 868-623-8053 
Mon-Fri 8:00AM to 5:00PM                                                     Mon-Fri 8:00AM to 5:00PM 
Sat 8:30AM to 1:00 PM                                                           Sat 8:30AM to 1:00 PM 
Valpark                                                                                   San Fernando
Valpark Shopping Plaza                                                         The Mall, Mon Chagrin & High St.
Valsyn, Trinidad (W.I.)                                                            San Fernando, Trinidad (W.I.) 
(Tel) 868-645-1604                                                                 (Tel) 868-652-4789 
(Fax) 868-663-9692                                                               (Fax) 868-653-1080 
Mon-Fri 8:00AM to 5:00PM                                                    Mon-Fri 8:00AM to 5:00PM 
Sat 8:30AM to 1:00 PM                                                          Sat 8:30AM to 1:00 PM
Travelspan G.T. - Travelspan's General Sales Agents in Guyana:
Georgetown                                                                          Ruimzeight
93 Regent Street, 2nd Floor                                                   Travelspan/Globespan Office 
Opp. Acme Photo Studio                                                        22 Public Road
Georgetown, Guyana (S.A.)                                                   Ruimzeight, W.C.D Guyana (S.A.) 
(Tel) 592-227-1701                                                                  (Tel)592-269-0140
(Fax) 592-227-1740 
Mon-Fri 8:00AM to 5:00PM                                                     Mon-Fri 8:00AM to 5:00PM 
Sat 9:00AM to 12:00 PM                                                         Sat 9:00AM to 12:00 PM